Staff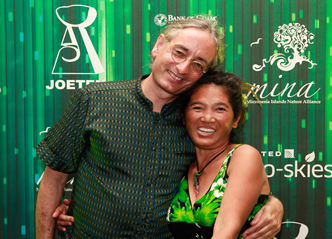 Ron Smith
Founder and President of Angil Design, Inc.
Ron arrived in the Northern Marians Islands in 1995 and immediately knew that these islands would be home for a long time to come. In 1999, he married his wife and partner, Moon, and over the years together they have created a niche with the generous help and support of our island community. Ron earned his associates in liberal arts at Northern Marianas College in 2003.
Beginning around the turn of the millennium and continuing to today, Ron has worked to nurture and grow Angil Design, Inc (est. 2001) a full-service IT company providing a wide range of products and services to the Marianas, Hawaii, the FSM and the US mainland.
Ron's IT experience encompass a wide range, including, but not limited to:
AS/400 database design and programming
Database-driven web application design & architecture
Business management software application design
Design, construction and implementation of networks, workstations and servers
Network and computer security analysis
Ron is currently the Vice President of the Chamber of Commerce and is a founding board member of the Micronesia Islands Nature Alliance. In 2005, he and Moon built a home/office which serves as a residence, an office and a practical example of energy and resource independent living.  
Ron & Moon are active sailors and spend what little time they're not working sailing around the Marianas.

Brian Mailman
IT Consultant at Angil Design, Inc.
Brian Mailman, born in the summer of 1996 on the island of Saipan. Graduating from Saipan Southern High-school, Brian began to foster a new found passion for using computers.  
He began working for Angil Design in March of 2018 as an entry level IT consultant.  Working on various computers and networking projects, he began to learn intricacies of how different technologies interact with one another.
When not working as an IT Consultant, Brian likes to spend his time playing video games or relaxing at the beach with his significant other.